This article was first published on March 25, 2011 at The Online Marketing Mix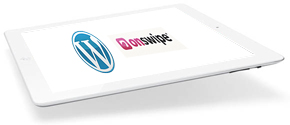 Today iPad 2 is released in the UK to much fanfare. It is clear that the iPad currently dominates the tablet market. Some predict that during 2011 iPad will grow even more popular and will hold between an 80 to 95% share of a market which is itself growing.
Not bad for what is still a young hardware platform – though the iOS software it runs on is quite mature. The iPad has literally kick-started the market for hand-held tablets which use touch gestures to operate them.
Meanwhile. Over in the web publishing world WordPress dominates the blogoshpere as the de-facto choice for quick and simple blog or website creation. But WordPress still relies on dated input device technology, like, erm, a mouse.
Wouldn't it just make sense if WordPress websites could be automagically optimised for iPad devices to make the most of those touch gestures? The people who built WordPress think so, that's why Automattic have announced a new plugin in collaboration with OnSwipe.
Imaginatively called 'Onswipe', the plugin has a number of features dedicated to giving iPad users a better experience on their particular device by simply re-tasking the way your blog works for them with very little work to do on your part.
Onswipe appears to be trying to give iPad users a more magazine-like experience when viewing a WordPress blog, which is no bad thing given the quality of downloadable magazine apps.
Getting back to the numbers game, when announcing Onswipe over on the WordPress blog Nick Momrik gave a hint of further plugins for other devices to come:
On WordPress.com we're seeing about 750,000 page views a day from iPad visitors and it continues to rise. New tablet devices seem to be coming out every time you turn around. In the coming months we'll be expanding to work with other popular tablet devices, but we chose to focus on the iPad first because… well it's cool.
Optimising your WordPress blog for a range of touch driven tablets is a way to differentiate yourself from others.
Right now. WordPress is a tool and iPads are cool. Onswipe is a cool tool. Give it a try and see if you get some of that cool to rub off on your site.